An Online Discussion with Caroline Lee
Canadian Institute for Climate Choices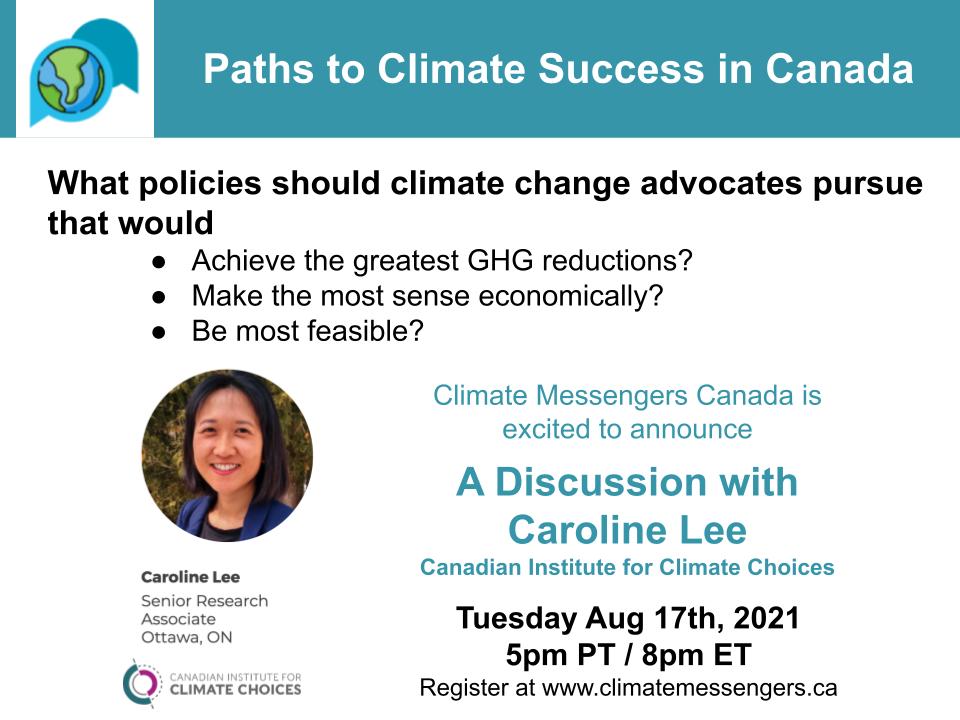 General Approaches
Advocate for "transformative" policies

Direct GHG reductions may not be huge, but these policies unlock further change needed for large scale GHG reductions
Advocate for policies that meet other societal goals

Garner support from the public by appealing to other motivations people may have (eg: health issues)

See extended notes for comments on public/political will
Advocate for the strengthening of existing policies

Lower barrier than introducing new policies
Summary of Key Policies
Carbon pricing for big emitters
CARBON PRICING FOR BIG EMITTERS
Why should we ask for it?
Low barrier: already in place, just needs strengtheningHigh stakes: if it's reversed, will be a major hitTransformative: helps companies transition to net zeroBig impact: industrial emissions are substantial and stubborn
What should we ask for?
Fix the OBPS (make big emitters pay)Phase out subsidies by reducing benchmarks over timeTell us when the subsidies will be phased out (set target)
What are we up against?
Hard to garner public support (too boring/technical)
Allies and Resources
ECCC OBPSPembina, Clean Energy CanadaCICC (Dave Sawyer and Renaud Gignac), Carbon Pricing Update blog
Decarbonizing electricity
DECARBONIZING ELECTRICITY
Why should we ask for it?
Transformative: unlocks decarbonization in other sectors (EVs, home space heating, industrial processes)Big impact: current coal → NG transition not good enough, because there's no plan to get from NG → zero
What should we ask for?
Target date and plan for decline to get from current allowable 420 g CO2/kWh → 0 g CO2/kWh
What are we up against?
Regional management of electricity means we have to Understand the different systemsTarget provincial govts as well as federalGetting NG out of Canada's electricity generation is very challenging
Allies and Resources
Upcoming work from David Suzuki Foundation (Tom Green) and Mark Jaccard (SFU)IESO gas phase-outClean Air Partnership team and phase-out FAQs
Supporting ZEVs
Other Important Policies
Even if we could implement all of the above policies, we will still miss our targets. We need an all-hands-on-deck approach, implementing all of these policies (and more!). Climate advocates can't tackle every policy, but every bit helps.
Decarbonizing heavy industry
OBPS is one way of tackling industrial emissions; another way is a green procurement policy by the government for important industrial materials. For example, when the government builds a new building, they only use low carbon steel, lumber, and cement, creating a market for our domestic steel, lumber, and cement makers. Companies currently have little incentive to make low carbon materials because there's no market. Generating a market will also drive further advancements of the technology.
Energy efficiency of buildings and deep retrofits
When it's possible, energy efficiency is the best thing to do, and should be the first strategy. Many buildings in Canada are not efficient, but the challenge is that it's expensive to retrofit them. Big price tag, but high return in the form of GHG reductions. Added benefit of reducing the cost of electricity/energy, especially for low income households. Efficiency Canada has looked into the potential for deep retrofits in Canada.
Decarbonizing heavy duty transport
Heavy duty and long haul trucks, planes, and ships are the next frontier in decarbonization. There is little in the way of policies to tackle these emissions. Some ideas can be taken from the EU's Fit for 55 climate package. Canada is lagging on this front, and heavy duty transport is more difficult to electrify (requires alternate fuels like biofuels). We could ask the government for specific policies targeting these sectors, such as vehicle efficiency standards, technology innovation. See Pembina Institute, John Axsen (SFU).
Land-based emissions
These emissions come from forests and agricultural land, where there is also potential for sequestration. Canada does not have a cohesive policy addressing land-based emissions. Nature United are the go-to folks for land-based emissions. They have estimated the potential for sequestration in Canada's land base across many options (preventing deforestation, planting trees, changing agricultural practices, etc).
Q: Are land-based emissions anthropogenic or natural?
Both. Also, there are flaws in the way emissions are counted: we only count the emissions of "managed" land. So emissions from disturbances on non-managed land (eg: fire, pest infestation) are not counted.